Part 1 of 3
Could you imagine creating packaging for a new medical device (or any product) from scratch without any prior knowledge or information? Packaging is an essential part of early medical device design. Well-designed medical device packaging impresses your potential customers and investors alike while ensuring safe and secure delivery of the device to your end users.
Start-ups and medical companies are always looking for innovative ways to build a perfect end-user experience that melds cutting edge packaging, stunning design, and safety. Sounds easy and simple right? In reality, it's a grand experimental journey made easier by following a few key steps to build your first packaging prototype.
Thoroughly defining the packaging requirements sets the stage for long-term success. It's important to prequalify the basic requirements prior to validating the entire package so that time and money is saved in the long-run. In Part 1 of our series on medical device packaging, we'll go through the steps that Elastic Care Inc – AI healthcare start-up based in Markham, ON – used during to prequalify and build a minimum viable product (MVP), i.e. built, validate, and iterate the first prototype.
Also, be on the lookout for Parts 2 and 3 of our series where we go into more depth on user experience and vendor management:
Part 2 will focus on how to work smarter by exploring user journeys, end-user experience, tips and tricks for medical device companies that are planning to build their first medical device packaging, and other great insights.
Part 3 will discuss how to connect with the best vendors with a prototype budget, the benefits of good project management, and how to launch your final packaging to the market.
Packaging background information:
At Elastic Care, the team has created a product packaging concept designed to meet the unique needs of our end users who are certified healthcare practitioners, i.e. nurses and physicians. The fact is, healthcare practitioners are extremely busy with their day-to-day agendas. For example, a nurse could be responsible for one patient at a time (in a surgical setting) or up to six patients (in a psychiatric ward). In some settings, such as large, busy hospitals, a nurse could be asked to care for eight or more patients at a time. When you design your "unboxing" experience with these end users, you simply have to engage and interact with your end users persona. The quality of packaging has to be extremely impressive.
Now, imagine the product inside this packaging works with a smartphone mobile application which guides the healthcare practitioner's to move from one step to another without referencing a user manual. Similarly, at Elastic Care, we have designed "unboxing" experience for the end-user to accomplish all the given tasks and move from point A to point B without getting trapped in the process. To achieve end users' goal, packaging has to be well-designed. The first step to a great design is always to build a prototype. Below, we will showcase some of the key steps to creating a prototype.
Construct a packaging prototype
One of the most important things to consider in packaging design is: how do I get started? The answer is simple, start with a brainstorm session. Part of this brainstorm session is to construct a physical prototype. At Elastic Care, we gathered some cardboard pieces, scissors, and tape and put together a prototype for early adopters. We laid out all the product components we wanted inside the packaging on a table and explored how an end user would want to experience the journey from opening the box to a fully assembled the device. Don't be disappointed if your first few attempts don't work out. Like us, you will likely have to do multiple times until you find a setup method that feels natural. The purpose of this cycle is to reduce re-work and avoid complicated packaging. Remember, end-users will buy your product because it solves a specific problem.
Have you ever seen a video of someone unboxing an Apple product? Do it right now. You will be surprised how much end users appreciate the level of beauty and simplicity of their packaging. Did you know Apple pays as much attention to its packaging as it does to its products? Make it easy for the end users to experience the unboxing experience. Hence, begin your research by constructing a prototype version. Some of the basic steps and design concepts are illustrated in the table below. The purpose of this table is to show the number of revisions and prototypes were made to accommodate the natural flow of end-users.
The table below shows a typical prototype journey at Elastic Care for the Alpha stage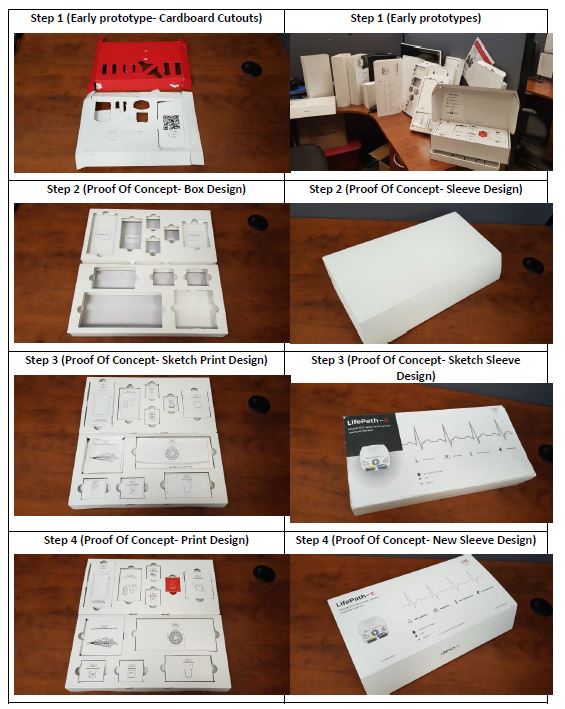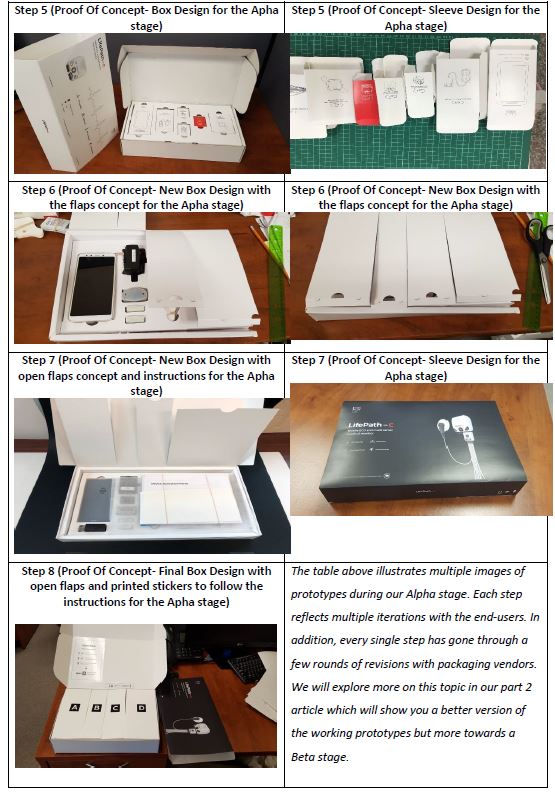 Validate and iterate packaging prototype
The next stage gets a bit more interesting and fun. Once you finish building a first working prototype, you might be super excited to test your packaging concept with your colleagues. But guess what, your colleagues are bound to find errors and problems with the unboxing experience that put you right back at square one. Don't let this get you down! As a matter of fact, this should give you an opportunity to explore more options – to be innovative and think … outside the box. Throughout the whole process of creating a MVP, you need to apply feedback/lessons learned and iterate to make your packaging as user-friendly as possible.
This is the approach encouraged by American entrepreneur, blogger, and author Eric Ries who, in 'The Lean Start-up', writes about approaching new product development more efficiently and getting the desired product to customers' hands faster. This approach trickles down to product packaging, where you need to use a scientific approach, which teaches you how to steer when to turn, and when to persevere- and push your product, and in turn, business forward with maximum acceleration. The idea of applying this approach is to test your packaging with your co-workers at very early stages, make observations and take notes wherever they find issues or make errors during unboxing, and then iterate until you find a solution that works. The following diagram summarizes this approach.
Part 1 of 3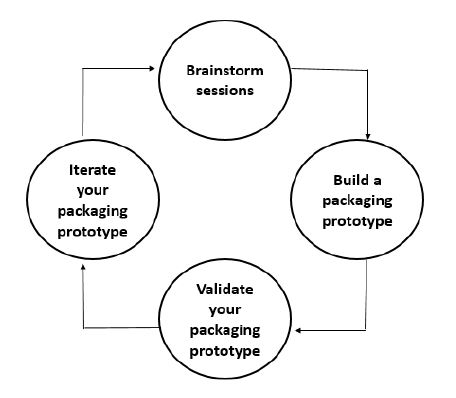 Work Smarter Not Harder
"If you cannot do great things, do small things in a great way" – Napoleon Hill. It is an interesting quote by Napoleon Hill but makes a perfect sense when you move to your next steps. Now, as an end-user, you have finally validated and iterated your product packaging, your next action plan is to start looking for packaging vendors locally or globally. Remember, when you have a complex packaging with multiple components involved in the packaging box, it is best that you find a local vendor whereby weekly on-site meetings, phone calls, and exchange of emails are all made within the local time zone. This is a bonus and added advantage for both parties.
In part 2 of 3 of this series of article, we will take this process a bit further and explore innovative packaging, dealing with packaging vendors, and how to beautify your packaging after multiple rounds of iteration, validation, and execution.
If you have more questions, please reach out to me on LinkedIn!
---
About Elastic Care
Elastic Care is an AI healthcare start-up based in Markham. The medical technology company is producing a secure remote cardiac monitoring platform, which integrates the latest advances in hardware and software in order to monitor, collect, and analyze patient physiological data.
---