FDA Clears the LifePath Remote Patient Monitoring Platform
Markham, Ontario, February 16th
Elastic Care obtains FDA clearance for LifePath RPM, the company's flagship Remote Patient Monitoring Platform. A pair of apps connect clinicians with patients to conveniently measure biometric data, communicate, manage prescriptions, organize care, and facilitate communication, all with integrated billing and easy direct payouts to practitioners.
The LifePath Remote Patient Monitoring Platform connects with compatible FDA-approved physiological measurement devices (blood pressure meters, pulse oximeters, thermometers, glucometers) to collect vital signs. The Platform is intended to be used at home or in healthcare-related environments such as long-term care facilities or clinics, nursing homes, and hospitals."LifePath RPM by Elastic Care offers cutting-edge remote health monitoring capabilities, leveraging a powerful spectrum of health measurement devices. The Platform is built to streamline the patient experience, from quickly accessible specialists, booking and billing for visits, prescribing medications, and serving engaging and relevant content," says Ashok Kalle, Elastic Care's CEO. "Our goal with LifePath RPM is to enable high-quality data-driven care for Canadians, using an innovative partner network to measure physiological parameters, eliminating guesswork, and cutting down on recurring visits. We're committed to making healthcare accessible, fair and simple for all Canadians."
The LifePath Remote Patient Monitoring Platform securely makes data available for remote viewing by clinicians, using a Clinician App installed on their smartphones. Clinicians can analyze data, prescribe medications, make notes, set flexible office hours and their own charge out rates where applicable, conduct direct billing, and contact the patient as needed. Clinicians can set alert thresholds for biometric data individually for each patient; notifications are sent to the clinician for threshold breaches.
About Elastic Care
Elastic Care is a Canadian medical technology company specializing in remote patient biometric monitoring. Elastic Care's products integrate the latest advances in hardware and software to monitor, collect, and analyze physiological data for patients.
For media inquiries, contact info@elasticcare.com
For more information, visit www.elasticcare.com
Local company Elastic Care introduces LifePath-C: a portable cardiac monitoring system intended to save people from heart diseases and other related illnesses.
LifePath-C is a small, battery-operated device that actively monitors a person's vital signs. These signs are retrieved through patches that are connected to the device and securely transmitted to Elastic Care servers in real-time, where the data is then automated into a report.
Though it is a small, compact device, LifePath-C can monitor a patient from anywhere. On top of this, the device can look at the heart in 12 different perspectives and can analyze a person's heart rate, respiration rate, body temperature, and an activity summary which provides information on whether your heart rate fluctuated based on the activity you were performing, for example.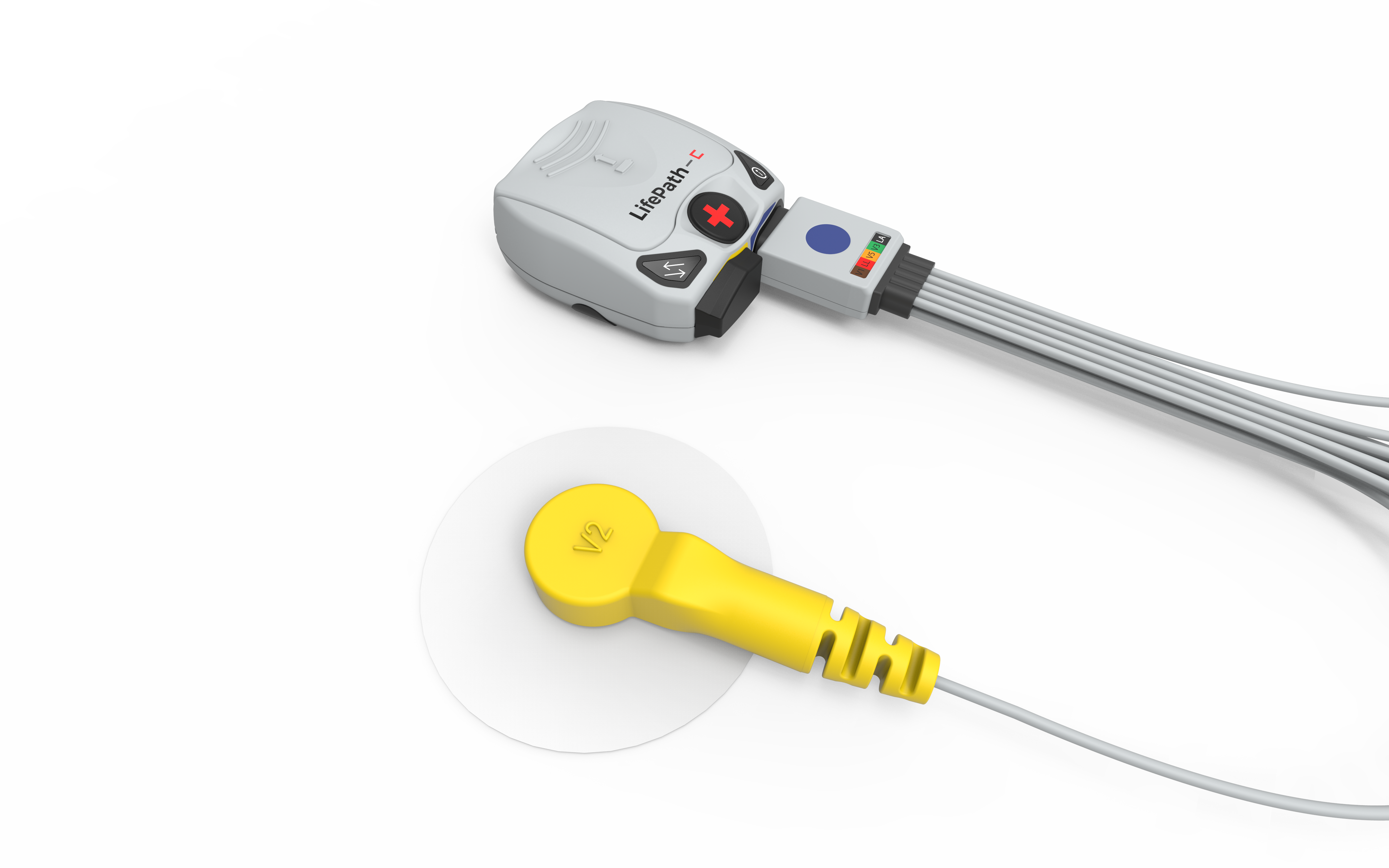 LifePath-C uses ECG patches to detect patient vital signs (Elastic Care).
"Knowledge really is going to be the path to better health here, and we want to give as much knowledge about how things are going with you so that you can have better health," said Akshay Kalle, Chief Technology Officer of Elastic Care. "We're trying to save people money but at the same time increase quality of care, get some really high-quality data, and frankly, address some really preventable diseases like COPD (Chronic Obstructive Pulmonary Disease) and heart disease. It's one of the biggest killers out there in the world."
With all of this data collected from the device, medical practitioners will be able to detect disease and diagnose it before it becomes a threat. With LifePath-C, practitioners will also be able to see the data live and multi-dimensionally, meaning they can analyze multiple sets of data simultaneously through the automated, summarized report that LifePath-C provides.
Doctors are also able to set specific thresholds in certain areas to cater to a patient's needs. For example, doctors can set a threshold on blood pressure levels for a patient. If at any point the patient comes close to exceeding or exceeds this threshold, this information will be marked in the automated report.
Currently turnaround rates from when a patient does a check-up to when they receive results ranges from six to 12 weeks. The team at Elastic Care says that with LifePath-C, a summary can be created in a matter of minutes. Not only does Elastic Care say that this will decrease turnaround rates, but it will also help doctor's retrieve more frequent and accurate data.
LifePath-C has been in the works for the past three years. Kalle says that their goal with their product is to increase the quality of healthcare and to address and prevent heart diseases.
"We believe in a company that is described by the things it does, and at the end of the day, we want people to feel really comfortable. We want the world to just be a lot healthier, and we think we have a solution for that – by getting people back home, out and about and still able to get both the quality of care and the high-resolution data that they need," said Kalle. "Each one of us has had some experience with the healthcare system- I've had it, you've had it, everyone's had it. Everyone's had someone who's been touched by it, but for us, the cardiac care context was really one that we thought we could make a big effect on."
Elastic Care is planning to have LifePath-C distributed to some hospitals in Asia and Southeast Asia by the end of the summer. By January 2020, the team says that they hope to have the device out on a mass-scale.
For information, visit www.elasticcare.com.
Feature photo: LifePath-C is an innovative device designed for portable cardiac monitoring (Elastic Care).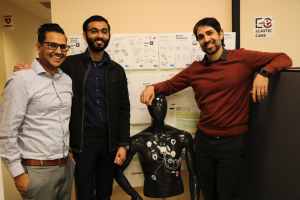 From L-R: Zef Sadikot, Amey Banavali, Akshay Kalle. (Stephanie Liu/Markham Review).
Elastic Care Inc will be exhibiting at MedEdge on June 11th, 2019, at the Richmond Hill Country Club. We will showcase our AI healthcare start-up innovation medical device called LifePath C – Remote Cardiac Monitoring.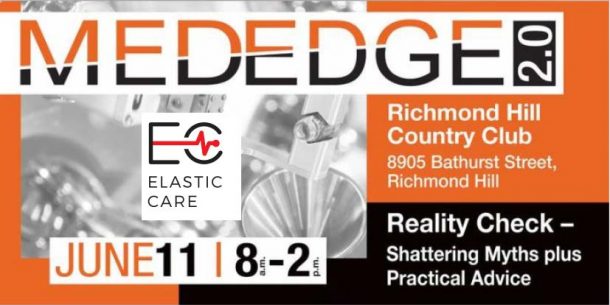 Elastic Care Inc will be exhibiting at the Collision Conference on May 20-23, 2019 at the Enercare Centre, Toronto. We will showcase our AI healthcare start-up innovation medical device called LifePath C – Remote Cardiac Monitoring.

Join Elastic Care Inc at booth S1 at Big Data Toronto and AI Toronto conference and become a part of our thought-provoking discussion where our CTO Akshay Kalle will share insights on, legal compliance and best practices in an AI & Big Data world.
We will showcase our AI healthcare start-up innovation medical device called LifePath C – Remote Cardiac Monitoring.